Japanify
May 5, 2014
by yoko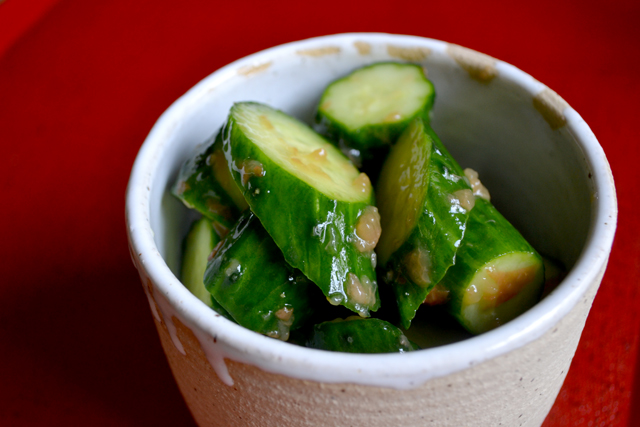 It's been hot in Berkeley lately and crunchy cucumbers have been a go-to for cooling down and feeling refreshed in my kitchen.
Read More →
April 14, 2014
by yoko
Warning: DO eat this at home before taking it out into the world! Weigh the social risks!
You may momentarily lose some friends while eating this salad because the smell will clear the room.
Read More →
February 7, 2014
by yoko
Shopping for the freshest seafood just got easier with another fish market that opened in the People's Republic of Berkeley. Fish is still my favorite thing to eat for dinner because it's easy and so, so delicious.
Read More →
January 17, 2014
by yoko
If there's one thing 6 days in paradise (Kauai) reminded me about life, it's that cooking rice on the stove top (and not in a rice cooker) is so easy!
Read More →
November 15, 2013
by yoko
Last Friday, Kayoko hosted a girl's night at her house. While our other halves sulked around the house or went away for the weekend into the mountains, us girls gorged ourselves on beef, pork and chicken balls.
Read More →
November 1, 2013
by yoko
The markets are exploding with pumpkins and other squash — which means, autumn is here! I always look forward to this time of year because I like bundling up, wearing my hair down and cozying up on the couch with all kinds of tea.
Read More →
October 4, 2013
by yoko
The early 90s…
I was distancing myself from my Sandylion stickers while making multiple trips to the Wherehouse to make sure that I got tickets to see Radiohead at the Edge in Palo Alto.
Read More →
September 20, 2013
by yoko
Last month, MOTO made a surprise appearance for our one-year anniversary party. With not one hair out of place, he casually sauntered into our shop and helped us dress into our summer kimnonos.
Read More →
September 4, 2013
by yoko
I've been really lazy about cooking these past few weeks. I don't know if it's because we are (finally) experiencing summer here in Oakland, or if I'm feeling unmotivated in the kitchen.
Read More →
August 15, 2013
by yoko
One of my favorite things to find at the fish counter is sujiko (fish roe). Its appearance is fleeting so I end up getting pounds of it to take advantage of the situation.
Read More →