December 28, 2012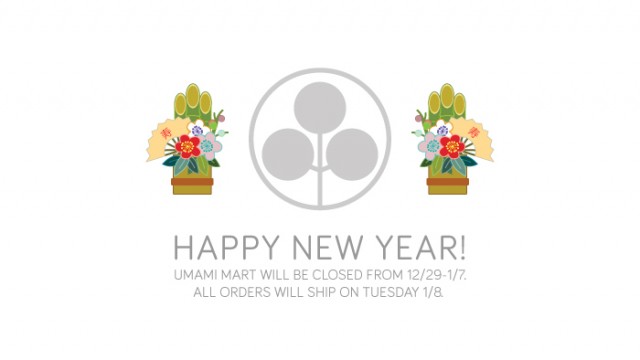 2012 has been one hell of a year for us. It started with some awesome events, like the Tokyo-SF Bartender Salon at Prizefighter, Ramen Night at Sutton Cellars, and a Japanese whisky tasting with Suntory for Father's Day. Then holy cow, we opened a shop in Oakland! Designed by the talented Dane Anders Arhøj! It has been a wonderful five-months in our space and we are loving every second of our new endeavor. We've hosted a slew of events, and it was a zoo in here for the holidays. Woohoo!
Now we're taking some time off to rest and recoup for the new year. Yoko's going to Japan to visit family, and I'll be road tripping to San Diego where my best friend is having a baby. So much to be thankful for! We'll be closed starting Saturday 12/29 through Monday 1/7. All online orders made during this time will be shipped on Tuesday 1/8.
THANK YOU to everyone who has supported Umami Mart throughout the years — whether as a writer, a reader, collaborator an avid commenter or a frequenter of our events. We would not have come this far had it not been for your loyal readership and encouragement. We've got a few key projects up our sleeves for 2013 so GET EXCITED!
来年もよろしくおねがいします!
Love,
Kayoko